Global Staff Attributes plug-in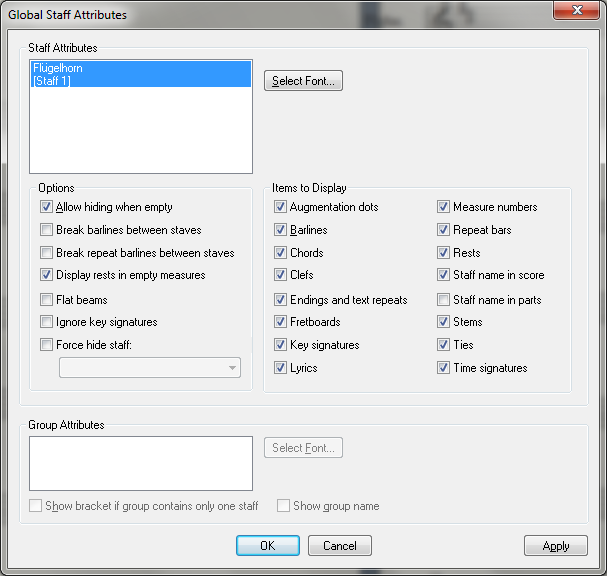 How to get there
Choose Plug-ins > Scoring and Arranging > Global Staff Attributes. See Plug-ins menu for more information on plug-ins.
What it does
The Global Staff Attributes plug-in will modify Staff Attribute settings for more than one staff at a time. The plug-in allows the user to select the staves, Items to Display, Staff Attribute Options, set the Font, Style and Size of Staff Names and Group Names, as well as set Group Attribute Options.
[List of Staves] • [List of Groups].

Select the staves or groups you wish to be affected by any settings you make. Click to select one, shift click to select several at a time,

CTRL

-click to select non-sequential staves.

Select Font.

Click one of these buttons to display the Font dialog box and set the Font, Size or Style for Staff Names or Group Names for the selected staves. See Font dialog box for more information.

Options • Items to Display • Show Bracket if Group Contains only one Staff • Show Group Name.

See the Staff Attributes dialog box and Group Attributes dialog box for descriptions of these items.

OK • Cancel • Apply.

Click Apply to change the settings on the selected staves and continue to select other staves and settings. Click OK to apply your settings to the selected staves. Click Cancel to dismiss the dialog box without making any changes.